Industrial Chillers Manufacturer in UAE
Our chillers use process cooling to draw heat away from your equipment during production. They are ideal for a variety of industries and applications. We are a top industrial chillers manufacturer in UAE.
Please feel free to contact us. We will get back to you within 1 business day. Or just call us now.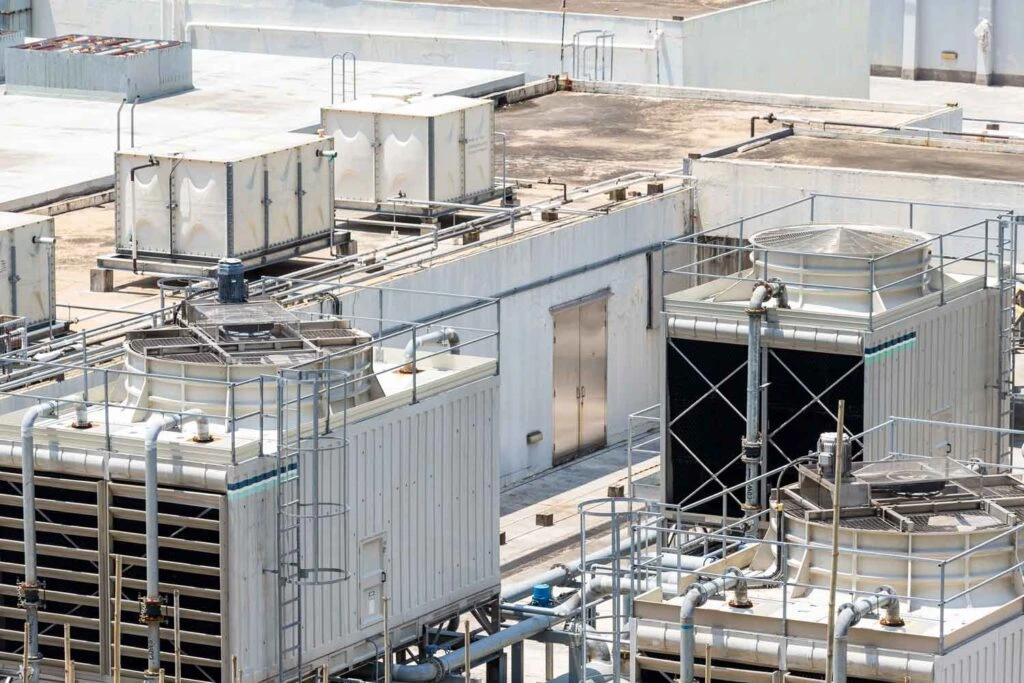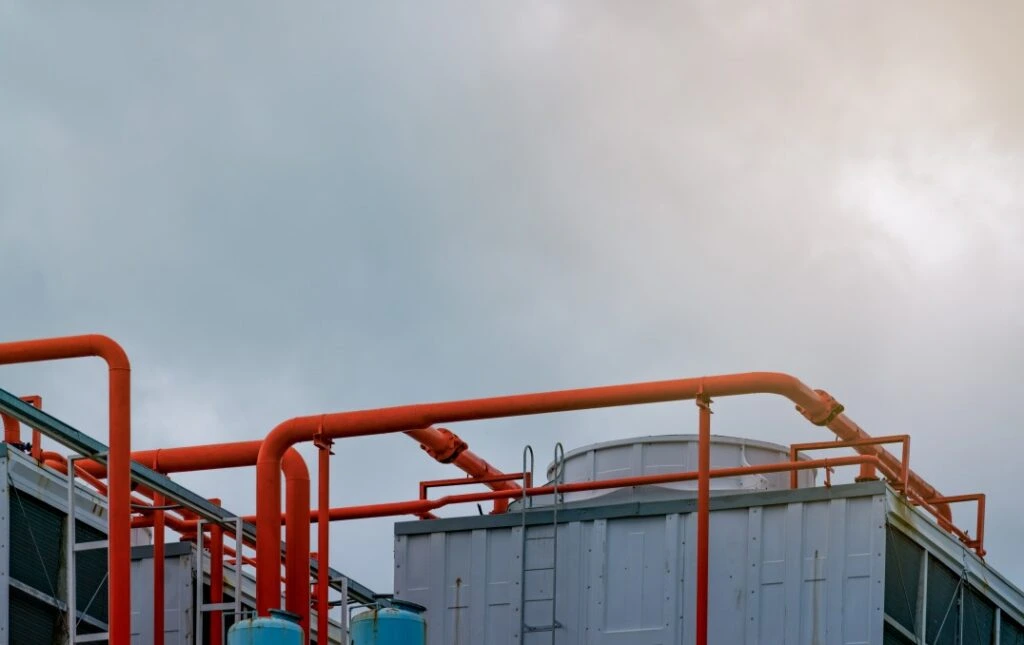 Heat is a common by-product of many industrial processes. The high temperatures need to be controlled to prevent any undesired outcomes that may arise from the excess heat during production. Common complications for overheating are industrial fires, engine breakdowns, and costly repairs. Chillers regulate the heat produced during industrial processes, preventing potential problems.
What is an Industrial Chiller
The chiller is a device that gets rid of the excess heat produced during an industrial process. In any industrial process, expect the heat to accumulate over time. If it is not removed, systems will start to malfunction. Industrial plants require the right type of chiller for their industrial processes to lower the cost of cooling the machines, reduce downtime, and improve the efficiency of the operations of the industry.
How does an Industrial Chillers Work?
An industrial chiller has four chambers, notably an evaporator unit, a compressor, a condenser unit, and an expansion unit. The basic function is that a low-pressure coolant will enter the evaporator unit, which hosts most of the stored heat. Once inside, it is heated until it vaporizes into a low-pressure gas. The low-pressure gas is pumped in to the compression chamber compressing it to a high degree until it turns into a low-pressure liquid. This low-pressure liquid again is pumped into the expansion unit where it starts the refrigeration cycle once again. This process repeats over and over until the ideal temperatures are achieved.  A typical thermostat can control this process ensuring that the refrigerant liquid is only allowed in when the system starts to overheat.
What are the working principles of Industrial Chillers?
Industrial chillers function by utilizing three common working principles namely:
Change of phase
The phase change principle of the industrial chiller refers to when the liquid coolant is transformed into a vapor after being subjected to heat. The gaseous form of the coolant is then cooled at low temperatures to condense it back into liquid coolant.
Heat flow
Under the heat flow principle, heat flows from where it is highly concentrated to an area with low concentration.
Boiling point
The boiling point principle refers to the process of the industrial chiller lowering the pressure of the liquid to decrease its boiling point. When increasing the boiling point of the liquid, the pressure of the liquid is increased within the industrial chiller.
All these three phases are important for the functioning of an industrial cooler.
Types of Industrial Chillers
Industrial Chillers Manufacturer Products
Industrial chillers are essential for various manufacturing processes, where precise temperature control is required. Our range of packaged liquid chillers, available from 2 tons to 100 tons and above, offers an all-in-one cooling solution. These chillers incorporate a refrigeration plant, pumping system, and control panels, resulting in a compact and easy-to-install package.
High Efficiency
Al Tabreed chillers are known for their energy efficiency, thanks to features like variable speed compressors. By reducing energy consumption, they help lower your operational costs.
Low Noise Levels
Our chillers are designed to operate quietly, ensuring a peaceful work environment for your employees and customers.
Durable Construction
Built with high-quality materials and components, Al Tabreed chillers are robust and reliable. They come with a comprehensive warranty, guaranteeing their longevity.
Easy Maintenance
Our chillers require minimal maintenance and offer user-friendly designs, allowing you to perform routine maintenance tasks yourself.
Wide Range of Capacities
Al Tabreed chillers are available in a broad range of capacities, ensuring that you find the perfect chiller to meet your specific requirements.
Refrigerant Options
Depending on local regulations, our chillers utilize various refrigerants, including R22, R410A, and R134a.
Cooling Capacity
With a cooling capacity range of 120 tons to 1,200,000, our chillers are suitable for a wide array of applications, including manufacturing, food processing, and HVAC systems.
Power Consumption
Al Tabreed chillers are highly energy efficient, enabling you to reduce power consumption and achieve cost savings. The power consumption ranges from 17.5 kW to 150 kW.
Compact Dimensions
Our chillers are designed to be space-efficient, with dimensions of 152.4 x 101.6 x 151.1 cm to 432.8×232.8×222.4 for the 100 tons, making them easy to install in various spaces.
Uses of Industrial Chillers
An industrial chiller is used in various applications including:
Food processing
Food processing applications require precise regulation of temperature. Industrial chillers are used vastly in food processing industries to keep the temperature of the food products in control. For example, bakery chillers are used to cool the potable water, jacketed tanks, and mixer during the processing of yeast. Additionally, wine chillers are used for temperature regulation in the storage and fermentation of wine.
Metal finishing
There are metal finishing procedures that require extremely high temperatures including:
Electroless plating
Electroplating
Due to the high temperatures produced, chillers are essential in metal finishing processes to get rid of the excess heat and facilitate easy bonding of the metals.
Injection molding
During injection molding, various plastic parts are mass-produced using the following components:
Thermoplastic pellets
Mold
Injection molding machine
The injection molding procedure requires a precise temperature range to avoid internal stress, warping, or cracking of the plastic. Therefore, chillers are an essential element during injection molding.
Space cooling
Manufacturing plants use heavy-duty machinery that generates excessive amounts of heat. Industrial chillers are used to lower the temperatures in the industry's working area to create a cool working environment. Industries that utilize industrial chillers for cooling save tons of costs that would otherwise be spent on purchasing massive HVAC systems.
Get your Industrial Chiller Serviced by Al Tabreed
If your industrial chiller is faulty or needs to be serviced by professional and licensed industrial chiller experts, then give us a call at Al Tabreed. We also provide chiller installation services in case you need a new chiller for your processing firm. Get in touch with us today for any questions you may have about industrial chillers and our services. Our customer service team will help you book an appointment for chiller servicing, repair, or installation. Work with the best industrial chiller experts today.